Attractions
Maribyrnong River
The Maribyrnong River at Essendon and Maribyrnong is where people of all ages enjoy a variety of recreational activities. From the Raleigh Road Bridge to the Afton Street Footbridge, it is a popular location for walking, jogging, cycling, rowing and fishing. It is an ideal area for families and large gatherings to enjoy a picnic. Attractive parklands with large grassy areas, trees, BBQs and children's playgrounds adjoin the north and south sides of the river.
Afton Street Footbridge
The Afton Street Bridge, built in 1995, provides easy access for walkers, joggers and cyclists to cross the Maribyrnong River. A suspension bridge comprising of large timber planks for walking on, it has timber balustrade railing on each side. A car park is located adjacent on the north side.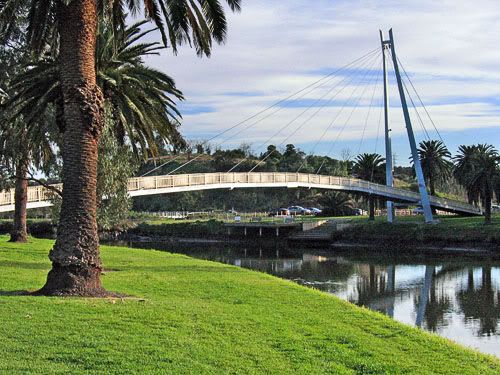 Afton Street Footbridge
Photo: Darren Stones
Band Rotunda
The Band Rotunda located at Maribyrnong Park near the Boathouse Cafe was erected by the Essendon River League in 1922. The Essendon Band performed during summer when monthly recitals were held.
Band Rotunda at Maribyrnong Park near the Boathouse Cafe
Photo: Darren Stones
Boathouse Cafe
The Boathouse Cafe sits on the Maribyrnong River amongst an oasis of gum trees, manicured gardens, sloping grass banks, and old river terraces. There is a feeling of pride and history, and the sense of community here is undeniably strong.
Anglers Tavern
The Anglers Tavern has fantastic views of the Maribyrnong River. On hot summer days, the large beer garden area is the place to be. During winter, it is heated and provides a great atmosphere. A public bar and bistro caters for your beverage and eating needs.
Riverside Park
Riverside Park is an ideal location for a picnic or large outdoor family gathering. There are two rotundas, BBQ facilities, toilet, water fountains, tables and seating, car park, children's playground, shade trees, and expansive lawn areas for ball sports. Entry is via the roundabout at the intersection of The Boulevard and Fawkner Street.
The Boulevard and Avenue of Honour
The Boulevard and Avenue of Honour were created in 1920 and include tree plantings, plaques and story boards to commemorate fallen soldiers who served in World War I.
Essendon Rowing Club
The Essendon Rowing Club is a membership-based club that also caters to people who would like to learn how to row. The club offers a beginners program consisting of six 1:15 hour sessions conducted on consecutive Sunday mornings at 8.30am.
Poyntons Nursery
Probably the most popular plant nursery in Melbourne's north, Poyntons is a visual feast. It has a fully licensed cafe and over 100 car parking spaces.
Coulsen Gardens
An ideal location for a family picnic. A large open grassy parkland with ornamental trees and plenty of space to kick a football, throw a frisbee or play some cricket. Facilities include a children's playground, toilet block, BBQ, drinking fountain, and car parking.
Fishing
Fishing is a popular pastime along the Maribyrnong River. Bream is the species generally caught from fishing platforms and the river banks along the Maribyrnong River Loop Walk route.
Birdlife
Birdlife along this section of the river is abundant. Species include:
Yellow-crested Cockatoo
Eastern Rosella
Rainbow Lorikeet
Galah
Egret
White-faced Heron
Corella
Wattlebird
Australian Magpie