Walk report Saturday 3 September, 2011
By Darren Stones
Coordinator
Let's Walk Australia
What a great day for Let's Walk Australia's first walk! The sun was shining and there was a touch of breeze blowing as walkers, cyclists, joggers and rowers enjoyed a great Saturday morning.
Ten people participated in the walk, with the youngest being eight and the oldest 71. Two kids on bikes (wearing helmets), and one kid on a scooter.
Jodie Evans, psychologist, and the health professional advisor for Let's Walk Australia, was willing to lay claim to having the youngest participant onboard, due to being 21 weeks pregnant. However, I made a black and white decision that unborn walking passengers would not be counted in the official walking stats.
Jodie's eight-year-old niece Caitlin, from Wodonga, exhibited her excellent one-handed cart wheeling skills. I briefly explained to Caitlin that I did not have the correct footwear to do one-handed cartwheels with her.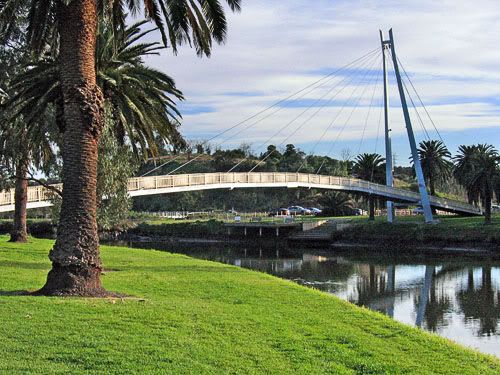 Afton Street Footbridge
Lisa Gale, President of the Essendon Maribyrnong Park Ladies Cricket Club, and her mother Kath from Airport West, came along after seeing the walk promoted in the What's On section of the
Moonee Valley Leader
newspaper. Lisa mentioned that she was quite pleased to see Collingwood get a hiding from Geelong the night before. Yes, footy was a topic of discussion.
Dr Brigette Pham, from Maribyrnong, and a General Practitioner at the Geum Street Medical Clinic in Glenroy, was looking trim, taut and terrific. A regular jogger along the Maribyrnong River, she called in her three young troops, Dan, Lachlan and Amy to boost numbers. They decided to use wheels as their mode of transport – smart kids.
Gordon Stones, 71, from Glenroy, provided moral support and encouragement to all concerned. A keen walker himself, Gordon has been beside me for so many therapeutic walks along the Maribyrnong River since 2009.
So, Let's Walk Australia has stepped out for the first time. A pleasing success and people met new friends. Our next walk is on Saturday 1 October, 2011 at 9.00am.